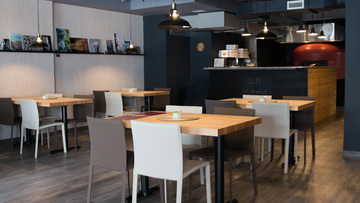 Bistro Ristoro
17 Clarence St, Ottawa, ON K1N 5P4
As a small Bistro in the ByWard Market, we strive to serve approachable authentic appetizers, savoury plates and high quality wines from France, Italy, Spain, Portugal, Greece, Croatia and Macedonia.
Our small vegetarian, chicken, meat and fish dishes as well as our thin crust pizza are inspired by the fascinating Western and Eastern Mediterranean culinary traditions. For instance, our artisan pizza is made in a brick oven according to a recipe older than one century.
We accompany our food with carefully selected wines including Grenache Blanc, Welschriesling, Loureiro, Chardonnay, Sauvignon Blanc, Pinot Gris, Bordeaux, Primitivo, Sangiovese, Tempranillo and others. We want our guest to enjoy the intense and disarming flavors of the European wine regions.
The symphony of the flavors of our food & wines is complemented by the inviting interior of wood, stone, informal seating arrangements, warm atmosphere and camaraderie.
Gorgeous place to ease with friends, celebrate life's milestones or simply enjoy a bite and a glass after work.