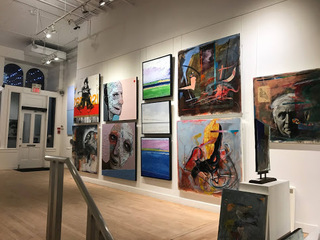 Galerie Alpha Art Gallery
531 Sussex Dr, Ottawa, ON K1N 5S6
Opened in May of 2015, Alpha Art Gallery has been an exciting addition to the Ottawa art and culture scene.
Located just a few blocks from the National Gallery of Canada in The Byward Market at 531 Sussex Drive, Alpha Art Gallery's primary focus is on exhibiting the work of internationally acclaimed contemporary artists.
What really sets Alpha apart is its role in the cultural community. Not wanting to limit themselves strictly to showcasing contemporary art, Alpha also serves as a meeting place for the public and artists to connect. Poets, musicians, dancers, sculptors, photographers and other artists from the region and abroad gather at gallery events which combine exhibition with active public participation.
Alpha's distinctive, minimalist space in an historical building provides the perfect contemporary venue for cultural, corporate and social events, and offers event-planning services to accommodate the needs of you and your guests.