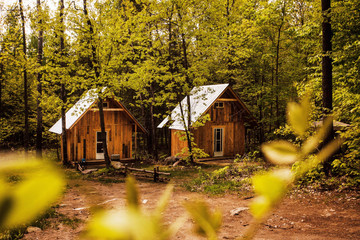 Chalets Rafting Momentum
1041 QC-148, Bryson, QC J0X 1H0

For the "unequipped" in camping or for those looking for increased comfort, our rustic chalets will meet your expectations. Our cottages have a full kitchen, a full bathroom and two beds. Four people can sleep there comfortably. The concept is open with a mezzanine and the numerous windows allow remarkable natural lighting.
In summer, these chalets are mainly booked by our rafting clients and can accommodate a maximum of five people. Floor mattresses will be required (not included). The chalets are without electricity and without running water which allows a beneficial uprooting. Yes, the shower is still possible, ask us how! For our rafting groups, our battery lighting is more than enough and it will give you an evening out of the ordinary. The "without electricity" accentuates the exchanges. Located within walking distance of the reception barn, the chalets are still far enough apart for an experience far from the noise of the rafting festivities.
For the romantics, our choice of lighting will charm you and the candlelit dinners will make you live unforgettable moments. You will experience the simplicity of a pure, wooded atmosphere without electricity, as in the past.
Our facilities are located on a wooded lot allowing winter and summer hikes.
Our chalets will appeal to romantic getaways, an evening with friends or for a retirement away from the stress of work or the stress of the blonde / boyfriend
In winter, when you arrive, the chalet will already be warm and comfortable. You will have all the wood you need to continue warming the premises and we will even leave you an ax, in case the desire to cut wood calls you.
With all the necessary amenities, you will breathe the fresh air in our rustic chalets.