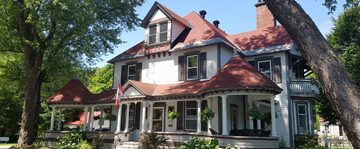 Les Trois Érables
801, chemin Riverside, Wakefield, QC J0X 3G0

History, comfort and elegance define this magnificent Heritage Inn built in 1896 and facing the Gatineau River in the heart of the beautiful village of Wakefield - twenty minutes drive north of Ottawa-Gatineau.
Les Trois Érables was built by an eminent physician more than 120 years ago, with majestic halls and tranquil gardens. It is now a small, elegant inn that is ideal for your visit - whether you want to get away from it all and relax for a few days or take part in the many activities the Wakefield area has to offer.
Combine that with Shana's three-course gourmet breakfasts, lots of thoughtful services and warm hospitality, and you'll find that this could be your ideal getaway. But do not just trust us - read some of the TripAdvisor reviews from our previous customers.
Wakefield is a special place and you will see why. A bit bohemian, very artistic, it is a waterfront village nestled between the lush hills that seems to have changed little over the last century. With many good restaurants and bars, culture and entertainment that is the envy of major centers as well as many outdoor activities in the area - impossible not to like. A real spirit of community reigns, which visitors are quick to note when they walk around.
And the manor Les Trois Érables is in the heart of it all! In front of the general store and an excellent restaurant in the old train station, and a few doors from a fine bakery and confectionery. Only a few minutes walk from the rest of the village; and around Gatineau Park!
But you may choose, like so many others, on a lazy summer evening, to simply sit on our large veranda with a glass of wine and watch the world go by. With pleasure!
Your hosts, Shana and Bruce