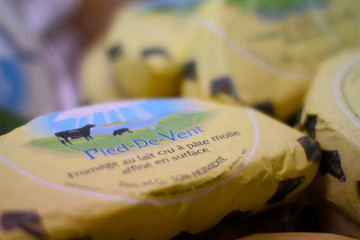 Fromagerie Du Pied-De-Vent .
149, Chemin de la Pointe Basse, Havre-aux-Maisons, QC, G4T 5H7

In the enchanting setting of the Magdalen Islands, visitors, groups and cruisers are invited to enjoy a unique taste experience. Made from Canadian cow's milk cheese, we produce five types of cheese with evocative names: Pied-de-Vent, Tomme des Demoiselles, Young Heart, Art Senau Cheddar and Cheddar Grain. In the shop we find cooked dishes and local products.
The Economuseum offers to discover the artisans at work! A journey in 6 components, the welcome, the workshop, the traditional know-how, the current know-how, the documentation and the shop.
A cheese factory with flavors of the islands
Every day since 1998, the cheese dairy of Pied-de-Vent transforms its milk into tasty cheeses which make the reputation of this company which is located on sea.
Master the art of refining
Cheese making requires rigor and discipline. From the farm to the dairy, a whole series of steps and conditions must be respected. How long does the cheese maker have to start production once the milk is drawn? Does he need the same amount of milk for all his cheeses? Why are Canadian cows? Through their answers, the craftsmen will demonstrate their know-how with passion.