Harold Rhéaume, choreographer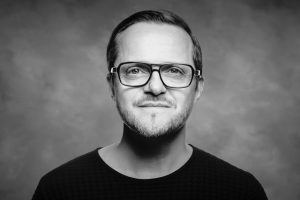 A graduate of l'École de danse du Québec in 1989, Harold Rhéaume first worked with Danse Partout (Québec) before joining the ranks of the prestigious Dance Lab Group in Ottawa. Under the guidance of Peter Boneham, he began exploring the fundamentals of dance performance and choreographic creation. He settled in Montréal in 1993 and rapidly gained recognition. In 1997, La Presse newspaper said that "…when he dances, Harold Rhéaume radiates such intensity that he seems larger than life, …he is among those who dance to say things and move you." Like Robert Lepage, Rhéaume returned to Québec city, founding his company Le fils d'Adrien danse (his father's name) in Saint-Roch, which was at the time transforming into a culturally vibrant neighborhood.
With his humanism as well as his interest in clarity of intent, Harold Rhéaume distinguishes himself from other formal and conceptual trends. His pieces are inventive and refined without ever being pretentious. Inspired by day to day life, Rhéaume works from instinct and spontaneity and has a wide spectrum of influences including musicals, theater, painting, modern architecture, jazz and contemporary music. He also distinguishes himself in having his dancers be part of the creative process. Their personalities and personal experiences, and even their limits, are of much importance in shaping the shows.
Openly homosexual, the choreographer responds with humor when a journalist asks him if all contemporary dancers are gay : "That is wholly exaggerated. I'd say 90%!"
In addition to the choreographic work with his own company, Harold Rhéaume has worked with Cirque du Soleil and contributed to theater, cinema and opera. He is a teacher of physical expression at the Conservatoire d'art dramatique de Québec, as well as choreographic creation at l'École de danse de Québec and l'École de danse contemporaine de Montréal.