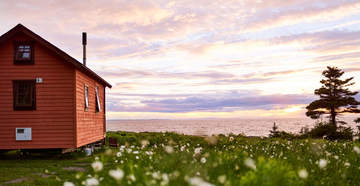 Domaine Floravie
100, Route Santerre, Le Bic, QC G0L 1B0

Discover the Floravie Estate
Want to rent a large house or a mini cottage by the sea? We thought of everything at Domaine Floravie. Enjoy Rimouski and its attractions as well as the Bic National Park in one of our rentals.
Domaine Floravie is located on the peninsula at the mouth of the Rivière-Hâtée which joins the St. Lawrence River. This place is known as Pointe à Santerre. This "peak" belonged to Pierre Santerre and then became a place of recollection and retreat for the local religious community. This haven of peace is preserved by worrying about the climatic conditions so that future generations can enjoy it. Our team supports eco-tourism and aims to preserve the environment of this natural site.
Hiking, yoga, tai chi, meditation retreat: outdoor activities by the river
Want to go hiking, kayaking or yoga? The Bas Saint-Laurent region is perfect for enjoying the great outdoors. Located in the St. Lawrence Estuary, the Domaine Floravie is a perfect starting point for your next adventures! Between sea and mountain, you can spend a day exploring the nature around you or enjoying a moment of meditation in a unique place.
Go on a couple holiday: moments in complete privacy
Our chalets, located in a flowery field, have sea and mountain views, and that's it! Rent your cottage at "Tiny House" and enjoy a region renowned for its breathtaking sunsets. If you're wondering where to go on a romantic getaway, our mini chalets are the perfect place for you!