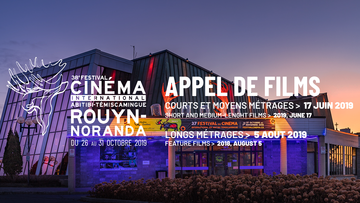 Festival du cinéma international en Abitibi-Témiscamingue
215, avenue Mercier, Rouyn-Noranda, QC J9X 5W8
A celebration of cinema of all types, the Festival du Cinéma international en Abitibi-Témiscamingue will be showing over 150 films from thirty countries. Short, medium and feature films, documentaries, animated and fiction films; the Festival is full of sight!
The event is distinguished by the quality of its varied programming, its impeccable technical supervision and its unique and friendly hosting structure. It offers quality programming, rich in early films and varied cinematographic forms, which allows moviegoers to take an enlightened look at international film production.
In addition to regular programming, several activities are organized to reach a large audience from 5 to 99 years: special sections for children and school groups, section for seniors and Espace Court, which allows you to reach a different clientele with movies underground or more marginal in a relaxed cabaret atmosphere.
The fervor and loyalty of his audience, the fame of his guests, the excellent media coverage he receives, the professionalism of his organization and the unwavering support of his community give him the status of a highly friendly event, which has allowed it to stand out and carve out a place among national and international cultural events.
An indisputable springboard for cinematographers and a stimulating opportunity for discoveries for the public, this original event allows for unforgettable encounters with moviegoers, the media and cinema artisans.