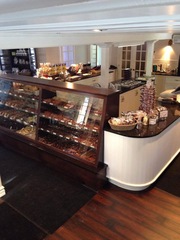 Chocolaterie de l'Île d'Orléans
8330, chemin Royal, Sainte-Pétronille, Île-d'Orléans, Québec, G0A 4C0

We are chocolate makers since 1988 at Ile d'Orléans. We only use high quality raw materials in our production: our chocolate is imported directly from Belgium, all our production is handmade by hand.
Our variety of products covers almost every facet of the chocolate market, when it comes to true chocolate that meets Canadian and international standards.
Our quality policy: "No chemical preservation product is and will never be used in our products. Never will any compromise be made with regard to the quality of the chocolate. If there are products that we can not do with quality raw materials, we will not, because we believe that quality is a key element of respect for our customers who are passionate about true chocolate. "
From 1990, we started making homemade ice cream and sorbet. 35% cream, milk and puree of natural fruit. More than 24 varieties of ice cream are offered during the summer season.