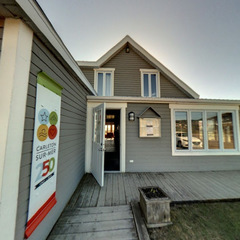 Le Marin d'Eau Douce
215, Rue du Quai, Carleton, QC, G0C 1J0

The restaurant "Le Marin d'eau douce" welcomes its visitors with more than just a meal.
In this old house built just steps from a beach in the Bay of Chaleur, you will succumb to the stunning view that fits rightly with the refined and sunny French cuisine of the chef Mustapha.
Adapted to the products of the region, the menu has a touch of exoticism and offers tasty dishes that will satisfy lovers of fish and seafood, as well as meat and game.
This warm and charming place offers friendly service and a friendly atmosphere accompanied by jazz music.
The restaurant "Le Marin d'eau douce" ™ offers you the expertise and know-how of its chef Mustapha Benhamidou and his son Mohamed Benhamidou, butler.
Before buying his own restaurant "Le Marin d'eau douce", Mustapha Benhamidou is no stranger in the field of catering given his 29 years of experience in cooking in Morocco, Europe , in Quebec and in Canada. Indeed, 5 years as executive chef at the prestigious Manoir Rechilieu in Charlevoix and 2 years being executive chef for the SEPAQ at Fort Prével in Gaspésie.