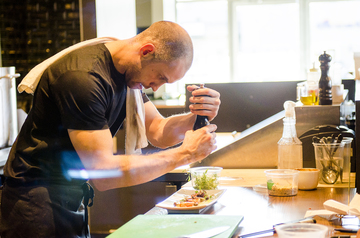 Bistro Le Coup Monté
467, rue Notre-Dame, Suite 107, Repentigny, QC, J6A 2T3

Located in downtown Repentigny in the Cours du Chemin du Roy, Bistro Le Coup Monté was founded in October 2014 under the impetus of three residents of Repentigny and a visionary chef!
This is the new rendez-vous for lovers of upscale, unpretentious cuisine. You can even accompany your succulent meal of the bottle of Pinard of your choice since the restaurant is of type bring your own wine.
The Bistro wants to become the reference in terms of upscale "bring your own wine" restaurant and to this end, is committed to renewing its menu not only according to the seasons, but also according to the tastes of its customers.