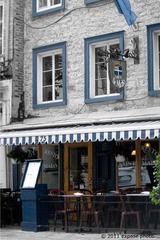 Bistro Saint-Malo
75, rue Saint-Paul, Québec, G1K 3V9
"After more than 30 years at your service, it is with a very big heart that Monique and George-Antoine handed us the reindeers of Café Saint-Malo it was their dream, their project, their baby ..."
Today, Philippe Racine and Philippe Fournier are ready not only to take up the challenge, but to appropriate this must-see monument in Quebec City that now bears the name Bistro St-Malo !!!
It is with infectious enthusiasm that Phil & Phil put themselves at the head of the kitchen to concoct a rejuvenated menu, but equally tasty, which will keep its roots of French bistro to add a trip to the Mediterranean !! Of course, this "bistronomy" will be possible thanks to our magnificent, fresh and tasty local products, carefully selected by us for you!
Of course, to eat well, you have to be well received and served! That's why our venue team will be ready to do anything to make you have the best time possible. Whether with a smile, sharing their knowledge of the flavors of the menu and our wines and spirits choices, our team will make you live an incredible meal that you will remember!
In short, to the pleasure of meeting you, alone, in couple, in family, between friends, and to serve you a cuisine of delectable idea in our warm and personalized atmosphere where simplicity rhymes with passion !!!